The filmmaker Corinna Gerhards writes about the young citizens of Chernivtsi who do not lose hope and fight for their dreams.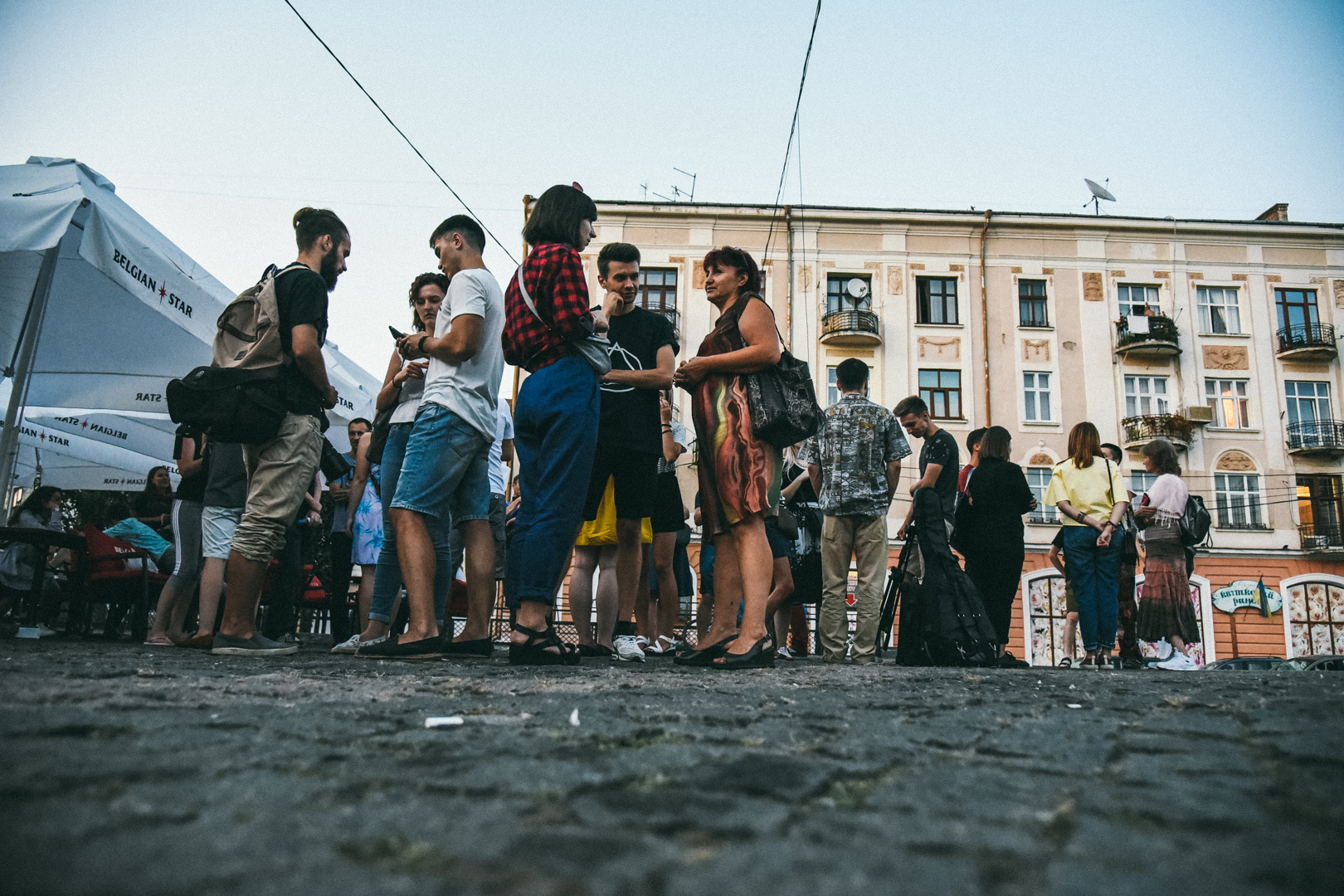 *Ukrainian version/Українська версія
At the beginning of October three German documentalists from Bremen came to Chernivtsi to make a film about human emotions, journalism, war and new generation of the Ukrainians who want to change their country. The filmmaker Corinna Gerhards writes about inspiring citizens of Chernivtsi and young generation that fights for its dreams without losing hope.
Every time I go to the Ukraine I learn a few more words. This time for example I learned malen'kyy, na zhal and liteplyi. (someone should definitely check the spelling on these..)The last one only exists in the dialect of one region and means something like: Not too hot, not too warm, just the right temperature. Usually it's used for drinking beverages. But one can also use it to describe a situation or a feeling that feels "just right". And somehow it became the motto of my work during my visit this time.
But let me start at the beginning.
The first time I ever visited Chernivtsi and the Ukraine was in the summer of 2015. The Euromaidan was not long ago, the war in the east still felt fresh and a buzz of tension in the everyday life was very tangible. But it was something else that struck me the most. Instead of crumbling in fear or calling to the "ones above" to change something, I noticed lots of young people that spend their time to create little changes in their nearest surrounding. Mostly in their spare time they created, they taught and fought for what they believed in. So I came back in 2016 with a little team, some equipment and the idea to document some of that. Did you ever try to film a documentary in a country where you don't speak the language? And ok.. lets face it… no experience in documentary-filmmaking so far? Let me tell you – not the cleverest idea. But that didn't change my ambition. Especially since we still got to meet so many inspiring people and projects. It took me another two years to get at least a little bit of money, and a more refined concept and so we came back in the beginning of October this year. This time with a little better equipment and a little more plan. "My little revolution" is the working title of our work in progress. We had only two weeks of time, due to the fact that our Camera-Operator and another member of our crew are still underage and have to go to school. By that time, we only knew that we want to talk to young people who make a difference in society, however small. So much to a refined concept! But than everything just seemed to fall in place. With the help of lots of people who just seemed to show up  we met one great interview-partner after the other. And we learned, you don't have to look hard to find this inspiring people, because they were all around us. To mention just a few:
We talked to Olga the art-teacher who tries to implement the joy of art and free spirit in children, to Andriy from The laboratory of culture, who, with his engaged colleagues, gives a space to art and cultural projects, Maxim and his friends, who in their Apartment 24 create a room for students, artists and cultural happenings, the other Maxim, who wrote a book about the history of Chernivtsi, documenting the changes that have already happened, to Olena, from the Insight NGO who told us all about the LGBTQ-Scene in Chernivtsi and the country and how they fight everyday for a little more tolerance and acceptance. We spoke with Maks the actor who is sure, that with his heartfelt acting he can move people more, than with a shotgun in his hands, to the street artist Oleh who tries to create little changes with his art and his everyday talks to his customers in the streets and last but not least to Sasha and his team at Shpalta, where they not only create a free spirited online magazine but also for example work with special-needs children and do so much more things to create a little change in their community.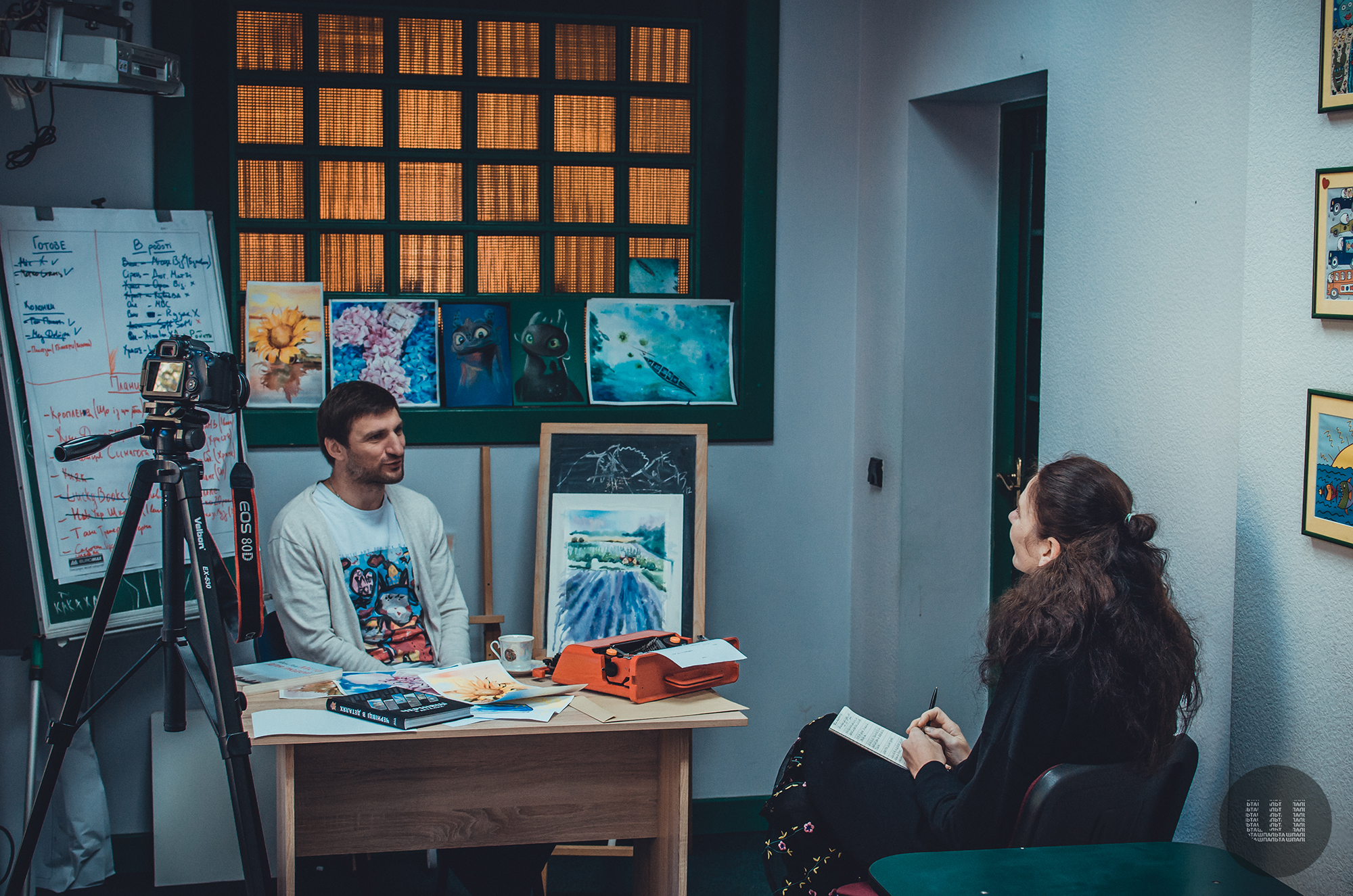 And those are just a few of the many many more that are out there!
We had the most inspiring talks in front of the camera and after hours, when we just had some beer and met even more people. We were called "Rammstein" in the streets a few times, I guess considering our unusual height and appearance not the worst comparison. We drove countless waiters crazy by wildly pointing on things in the menu that we couldn't read, we were looked at scolding by older people for constantly sitting on sidewalks, we learned so much about Ukraine history and society, we danced with a group of special children and we felt empowered and excited  by all the positive energy that surrounded us. When we had to go back to Germany after the two weeks, what felt way to early, we actually got a little homesick for your country and most of all, we missed, and keep on missing, all the new friends we made in this short amount of time.
We returned with more than ten hours just of recorded interviews and I already dread the work to cut them. Because everything that was said was so precious, especially considering the time we live in and should be heard by the world.
Perhaps it was just pure luck that I met the right people at the right time, perhaps it is just my supersaturated German mind that reads too much into little things. And I do know that there are still so many problems and obstacles to overcome. But if you ask me, there is something growing in the society of nowadays Ukraine that is so much more valuable than any political contracts or economical grows: There is a generation of young people growing up, that dares to hope, that fights for their dreams and that creates an open minded, free spirited new identity of what it means to be Ukraine – this country that is so old and so new at the same time. And perhaps when you see this our movie in a few years (by that time it will be definitely ready 😀 ), you may be able to contemplate what all this little seeds of activism have grown in to. I am sure, it will be a beautiful jungle of possibilities.
If I'd have to describe the atmosphere I felt, talking to all this great people, it would have to be "liteplyi". Between all the issues and challenges that they have to face, there is this feeling of it being "just right". Just the right energy behind their work, just the right time to really get something going, just the right time for change. And I am grateful to all of you that you let us catch a tiny extract of it on film.
Thank you so much.